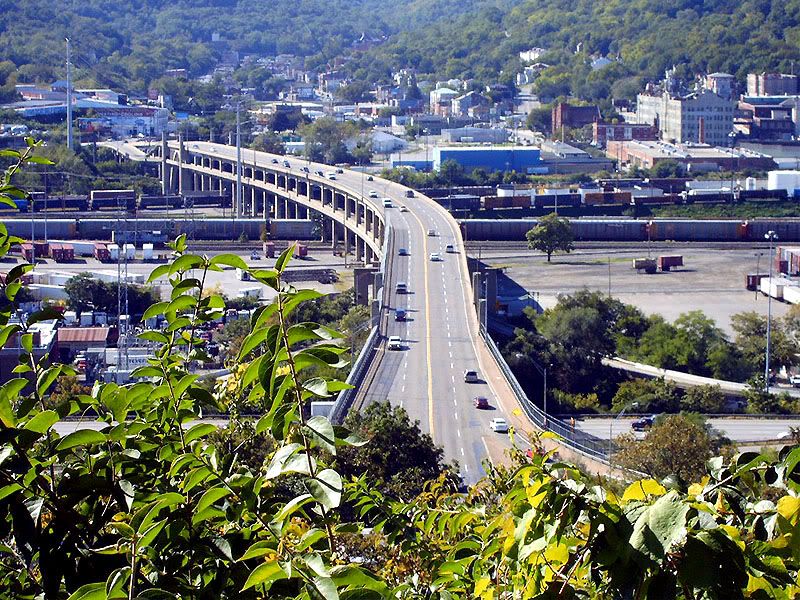 At its meeting on Nov. 15, Cincinnati City Council approved an application for a grant through the
Ohio Department of Transportation Local Major Bridge Program
for work associated with the rehabilitation or replacement of the Western Hills Viaduct.
The City's Department of Transportation and Engineering (DOTE) submitted the grant application prior to the October 1 deadline for fiscal year 2017-2019 funding, for which a budget has yet to be set.
The Local Major Bridge Program provides up to 80 percent of eligible construction costs for the 55 Ohio bridges defined as a movable bridge or a bridge having a deck area greater than 35,000 square feet.
A preliminary engineering study by
URS Corporation
still needs to be completed before the project's scope and costs can be estimated.
If awarded the grant, the required local funding match will come from an existing bridge maintenance fund capital improvement program project account.
Built in the early 1930s as part of the Union Terminal project, the half-mile long, double-decked Western Hills Viaduct is used by more than 55,000 vehicles per day. The viaduct's last major rehabilitation occurred in 1977.
DOTE's 2011 Annual Bridge Condition Report rated the viaduct as "poor" due to deteriorating structural members, obsolete ramps and a lack of shoulders.
The bridge is owned by Hamilton County and maintained by the City of Cincinnati through a contractual agreement.
Previous reading on BC:
Brent Spence advocates building strength, nearing fundraising goal (10/31/12)
Covington holding special meeting on Brent Spence alternative (4/11/12)
Renderings: Brent Spence Bridge corridor (3/30/12)
Condition of City bridges remains stable (3/29/12)
Brent Spence team released Environmental Assessment study (3/26/12)