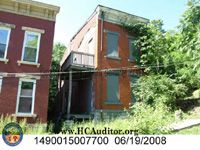 NEIGHBORHOOD:
Lower Price Hill
YEAR BUILT:
1911
USE:
Two-family dwelling
OWNER:
Mich-Alta Management LLC
(Detroit, MI)
ASSESSED VALUE:
$2,970
ORDERS:
--
CONDEMNED:
July 2005, vacant and water damaged. The owner began repairs, but apparently ran into financing issues. The building was ordered vacated and barricaded in June 2006. In February 2008, condemnation orders were reissued, adding a deteriorating porch, defective gutters and downspouts, and cracks in the masonry walls. Orders were reissued in September 2008.
HAZARD:
March 2009. The current owners acquired the property in June 2010.
REASON RAZED:
Declared a public nuisance and entered into the City's hazard abatement program.
MAP