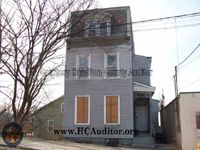 NEIGHBORHOOD:
University Heights
YEAR BUILT:
1904
USE:
Three-family dwelling
OWNER:
Erika A. Dawson
ASSESSED VALUE:
$15,170
ORDERS:
September 2007, ordered vacated and barricaded die to squatters and criminal activity. A site inspection showed that the building was missing downspouts, had damaged siding, and was missing windows, and all of the utilities has been disconnected or turned off. These orders were reissued to the new, current owner in January 2008. Building rehabilitation was underway by July 2008.
CONDEMNED:
September 2010, due to a February structure fire that damaged the roof and left side wall. A criminal case was filed in March 2011, with the owner eventually entered into a diversion program.
HAZARD:
June 2011, adding broken and missing windows, deteriorated gutters and downspouts, and litter.
REASON RAZED:
Razed by the owner to close out orders.
MAP