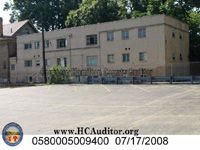 NEIGHBORHOOD:
Evanston
YEAR BUILT:
1900
USE:
Multi-family dwelling (6 units)
OWNER:
DB Midwest III LLC (Boise, ID)
ASSESSED VALUE:
$59,000
ORDERS:
October 2004, for clogged yard drains and hazardous earth conditions causing water to pour in and damage an apartment during heavy rains. Orders were reissued in May 2005, adding lintels, windows, electric fixtures, defective gas and plumbing, paint, plaster, exit and hall lights, roof, and drainage. All below ground apartments were ordered vacated. The entire building was ordered vacated in July 2007. New orders issued in October 2008, adding cornice, gutters and downspouts, chimney, and dilapidated fence. Ordered vacated and barricaded in November 2008. The property was acquired by the current owner through foreclosure in January 2009, and it was ordered vacated and barricaded again.
CONDEMNED:
March 2010, adding vandalism, mold, and roof damage from a fallen tree. A criminal case was filed in April 2010, but was dismissed for want of prosecution.
HAZARD:
September 2010.
REASON RAZED:
Declared a public nuisance and entered into the City's hazard abatement program.
MAP