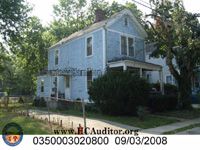 NEIGHBORHOOD:
Madisonville
YEAR BUILT:
1915
USE:
Single-family dwelling
OWNER:
The Cincinnati Bible Way Church Inc.
ASSESSED VALUE:
$46,000
ORDERS:
September 2009, for gutters and downspouts, exterior paint, and a faulty front porch. The documented owner at the time was determined to be deceased. Orders were reissued in February 2012.
CONDEMNED:
--
HAZARD:
--
REASON RAZED:
The church acquired the property in August 2012. It could be a case of the church wanting to close out the building orders, or they could be looking for expanded parking. The church
razed an adjacent property at 5020 Mathis Street
in July.
MAP