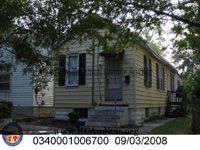 NEIGHBORHOOD:
Madisonville
YEAR BUILT:
1900
USE:
Single-family dwelling
OWNER:
Martha A. Harris
ASSESSED VALUE:
$36,210
ORDERS:
August 2009, for exterior steps and gutters and downspouts. Orders were reissued in November 2011.
CONDEMNED:
August 2012, following a one-alarm fire on July 29 that caused $20,000 in damage to the roof, rafters, wall framing, windows and doors, and caused extensive water damage. The property was vacant at the time.
HAZARD:
--
REASON RAZED:
Razed by the owner to close out orders.
MAP