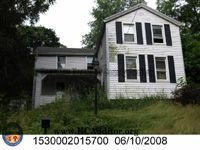 NEIGHBORHOOD:
Sedamsville
YEAR BUILT:
1904
USE:
Single-family dwelling
OWNER:
Lisa and Ron Baldwin
ASSESSED VALUE:
$35,550
ORDERS:
July 2007, for garage, roof, gutters and downspouts, and exterior steps. Ordered vacated and barricaded in October 2008. Mr. Baldwin told City inspectors that there had been a foreclosure proceeding, but that the bank returned the building because they didn't want it. A criminal case was filed against the owners in June 2009.
CONDEMNED:
July 2009. In August 2009, both were found guilty in the criminal case and were entered into a compliance program. The building was brought into compliance in March 2010, and the case was dismissed. The owners voiced their desire to raze the property. At a hearing that May, the building was found not to be a public nuisance, but was ordered to be kept vacated and barricaded due to its prior issues and its lack of utilities. In September 2011, it was again condemned, adding soffits, cornice, broken and missing windows, litter and high weeds.
HAZARD:
May 2012, adding defective siding.
REASON RAZED:
Declared a public nuisance and entered into the City's hazard abatement program.
MAP