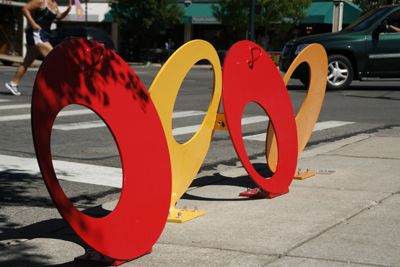 Through January 15,
ArtWorks
is accepting
applications for sponsors and locations
for sculptural bicycle racks as part of its Queen City Art Racks program.
ArtWorks will consider recommendations from the
City of Cincinnati Bicycle Transportation Plan
when selecting sites, ensuring that the bicycle racks will best serve the City's growing bicycling community. Up to five locations will be selected, and applications not accepted for 2013 will be kept on file for future consideration.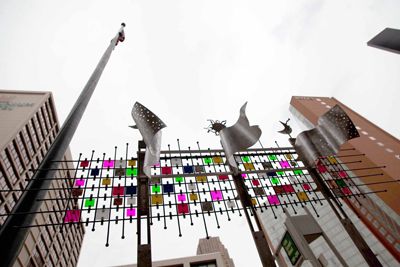 An initiative of ArtWorks' Public Art division launched in 2010, the program has led to the installation of ten sculptural bicycle racks in Cincinnati, including locations at
Walnut Hills High School
,
Hoffner Park
, and
1411 Main Street
.
ArtWorks, a nonprofit funded by the City of Cincinnati, the
Carol Ann and Ralph V. Haile, Jr/U.S. Bank Foundation
,
ArtsWave
, the
National Endowment for the Arts
, and the
Ohio Arts Council
, creates innovative public art while providing job opportunities for the region's youth and professional artists.
Photos courtesy of ArtWorks
Previous reading on BC:
ArtWorks seeking mural sites for 2013 (11/20/12)
NEA grant to fund Pendleton public art; Greater Cincinnati Foundation awards grants for projects (7/18/12)
Ten more murals coming this summer, regional total to 56 (6/19/12)
Cyclists ride buses for free tomorrow (5/16/12)
Cincinnati adopts new bicycle plan (6/23/10)