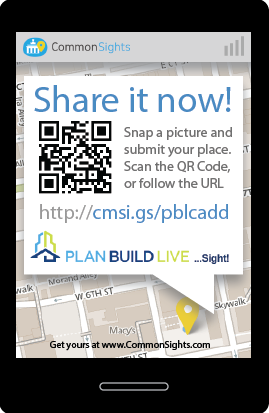 Plan Build Live
, Cincinnati's form-based code initiative, has a new way for people to share their thoughts about the City's places.
Plan Build Live…Sight!,
designed for mobile phone use but also accessible via desktop, laptop, or tablet, lets users upload photos, tag them, and share their impressions about what they love – or would change – about that specific place. Other users can find your place on the map, read your impressions, and add their own comments.
The site is the latest of Plan Build Live's extensive community outreach efforts, having recently won the
Cincinnati Chapter of the Public Relations Society of America's
Blacksmith Award for securing more than 3.1 million print and online earned impressions, more than 102,000 social media impressions, and the attendance of more than 700 residents at its Urban Design Workshop.
The final form-based code regulations are scheduled to be presented to the City Planning Commission and City Council for approval in late 2013.
In the works since 2008, the initiative is being funded by a $2.4 million grant from the
U.S. Department of Housing and Urban Development
.
To download to your phone, please click on the top image to enlarge and scan the QR code.
Previous reading on BC:
Four neighborhoods, four days: Form-based code workshop moves to community level (10/26/12)
Form-based codes team presents charrette summary, 10 guiding principles (8/2/12)
Plan Build Live survey asks for advice on neighborhood, development issues (6/12/12)
Five-day form-based code charrette begins Saturday (4/26/12)
Overhaul of Cincinnati development code ramps up today (3/6/12)