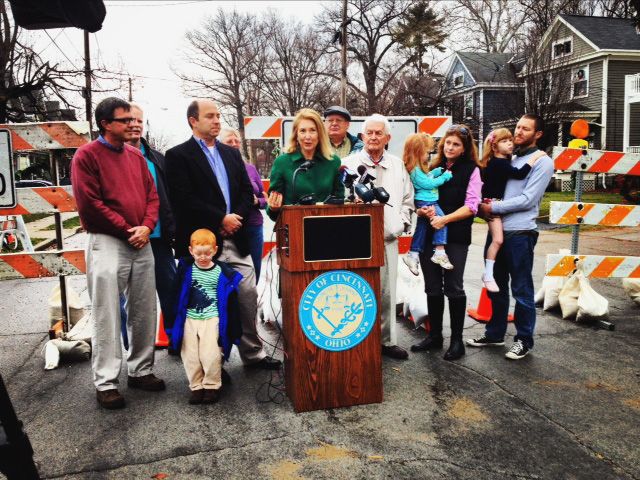 Temporary blockades have been installed on three Oakley streets, much to the delight of residents who fear an increase in through traffic resulting from Norwood's
Rookwood Exchange
and Mercy Health Midtown Emergency Medical Building developments.
The blockades have been installed at
the intersections of Edwards Road and Arbor, Atlantic, and Hyde Park avenues
, along the neighborhood's border with Norwood.
Oakley Community Council's (OCC) Traffic, Safety, Pedestrian, and Bicycle Friendliness Committee spent more than a year creating a comprehensive traffic calming plan that included full closure of the streets at Edwards Road, an idea that was not supported by the City's Department of Transportation and Engineering (DOTE).
Last month, Councilmember Laure Quinlivan sponsored a motion calling for installation of the temporary barricades while DOTE continues to work with the neighborhood to address its concerns.
"Oakley citizens did their due diligence and built neighborhood-wide support for these closures," Quinlivan said in a prepared release. "I'm happy to take the lead to ensure the timely placement of barricades to restore quality of life and safety in this wonderful East Side neighborhood."
"My neighbors and I have already seen a noticeable decrease in the number of cars that race down these streets," said OCC board member Craig Rozen.
Postcards will be mailed to property owners on and near the affected streets, which will be used to gather input on blocking them off permanently.
Rookwood Exchange and the Mercy Health Midtown Emergency Medical Building are scheduled to open next year.
Photo provided
Previous reading on BC:
Motion directs City to work with Oakley on traffic issues (11/12/12)
Oakley committee seeks immediate traffic changes (9/26/12)
Will Allston Street go one-way? (3/3/09)