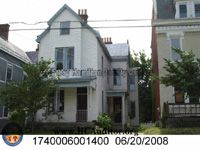 NEIGHBORHOOD:
West Price Hill
YEAR BUILT:
1890
USE:
Two-family dwelling
OWNER:
New Century Mortgage (Gahanna, OH)
ASSESSED VALUE:
$63,110
ORDERS:
November 2005, for damage from an October 20, 2005 fire that injured two adults and two children. A 7-year-old child had been reported dead from the fire, but was later revived. In April 2007, orders were issued for gutters and downspouts, cornice, siding, exterior paint, and exterior handrail. In July 2008, the house was ordered vacated and barricaded. The owner went through bankruptcy and lost the house. Orders were reissued to New Century Mortgage in August 2009.
CONDEMNED:
January 2010, vacant, open to trespassers, and vandalized. Other problems included a rotten rear deck, a crumbling foundation, deteriorated chimneys, missing flashing, and broken or missing doors and windows. The City then went through a tangle of ownership issues, with the bank apparently going out of business and returning the property to the former owner, then showing up as the owner again. In an effort to clarify ownership, orders were reissued in March 2011.
HAZARD:
October 2011, adding litter.
REASON RAZED:
Declared a public nuisance and entered into the City's hazard abatement program.
MAP