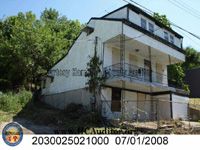 NEIGHBORHOOD:
South Fairmount
YEAR BUILT:
1865
USE:
Single-family dwelling
OWNER:
Mark E. Parson
ASSESSED VALUE:
$10,810
ORDERS:
April 2006, vacant and ordered barricaded due to broken and missing windows. The owner had filed for bankruptcy and was in the process of losing the building to tax foreclosure. Orders were reissued in May 2008, keeping the building vacant. Parson acquired the property in early 2009, and a criminal case against him is still working its way through the courts.
CONDEMNED:
February 2010, for foundation cracks, rotten and warped structural framing, deteriorated roofing and flashing, a collapsing porch, missing/vandalized mechanicals, and litter and debris.
HAZARD:
July 2012, adding gutters and downspouts and high weeds.
REASON RAZED:
Declared a public nuisance and entered into the City's hazard abatement program.
MAP