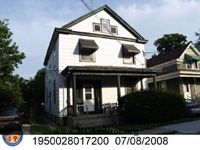 NEIGHBORHOOD:
Northside
YEAR BUILT:
1916
USE:
Two-family dwelling
OWNER:
Trina Hatchett and Danny Williams
ASSESSED VALUE:
$59,060
ORDERS:
October 2007, for exterior steps and exterior paint. Orders reissued for paint in April 2011. Ordered vacated and barricaded in September 2011 due to vandalism and stolen copper, defective roofing, broken windows, damaged siding, deteriorated cornice and soffits, and a defective chimney. Hatchett told the City that Williams, her ex-husband, was in prison and that she was trying to decide what to do with the property. Apparently, Williams had shot her.
CONDEMNED:
--
HAZARD:
--
REASON RAZED:
Razed by the owner to close out orders.
MAP