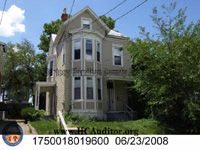 NEIGHBORHOOD:
East Price Hill
YEAR BUILT:
1890
USE:
Two-family dwelling
OWNER:
Robert R. Gannon
ASSESSED VALUE:
$53,930
ORDERS:
Lotsa litter. Orders in April 2007 for roof, chimney, cornice, and gutters and downspouts. Ordered vacated and barricaded in June 2008. Reissued in July 2008. A criminal case was filed in April 2009, but dismissed due to a new owner. Except it was the same owner.
CONDEMNED:
April 2009, adding siding damage and an overgrown lot. The roof tarps had blown away.
HAZARD:
May 2010.
REASON RAZED:
Declared a public nuisance and entered into the City's hazard abatement program.
MAP